Electric car share scheme
Electric car share scheme
In 2015, Auckland Transport opened a tender for a partner-operator for a city-wide car sharing scheme, preferring the use of plug-in electric vehicles.
---
Project status: Closed.
Project zone: Auckland-wide.
---
Project overview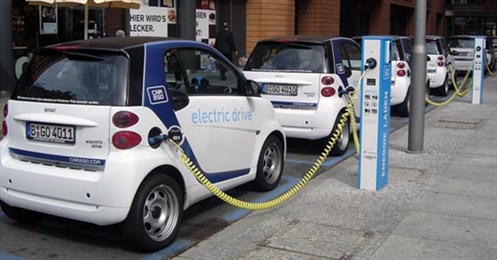 In 2015, the AT Board looked for a private sector partner to establish and operate a comprehensive car sharing scheme in Auckland, with an initial fleet of 200 - 300 vehicles supported by around 350 charging stations across the city.
The aim was for the operation be commercially viable and at no net cost to Auckland ratepayers. AT's role was to provide strategic planning and administration during the establishment phase and to facilitate infrastructure.
We expected a car share scheme to reduce the demand for private vehicles in the city and make it easier for some households to live without a car or second vehicle.
Result of the request for proposal (RFP)
We received nine high quality proposals in response to our RFP but none fully met our objectives:
Contributing to the uptake of electric vehicles.
Supporting the 'last mile' of journeys to and from public transport, and complementing active modes of travel such as walking and cycling.
No net cost to AT.
We will not be appointing any one supplier but will continue work with car sharing organisations, including our existing provider Cityhop, who are keen to work towards our objectives.
We are actively exploring electric vehicle options for pool cars.
---
Background
Car sharing organisations often use smart technology that allow a member direct access to the reserved vehicle, GPS to track location and usage, and automated billing systems. CSOs may be small or large, for-profit corporations or non-profit organisations. There are now large successful car sharing programs in operation, and examples include Paris, Berlin, Vancouver, and Sydney.
In 2012, the City of Sydney commissioned an independent economic appraisal of car sharing. The SGS Economics and Planning study found that car sharing led to an easing of parking congestion and savings to residents of AUD$21 million a year, including AUD$18.5 million in deferred car purchases by residents and business. The study found other benefits include:
Reduced travel times and traffic congestion.
Reduced parking times.
Personal health improvements from more walking.
Reduced greenhouse gas emissions due to less cars on the road.
More efficient vehicle usage.
Car sharing compared with other transport modes

Car sharing is sometimes called the "missing link" in the package of alternatives to the privately-owned vehicle.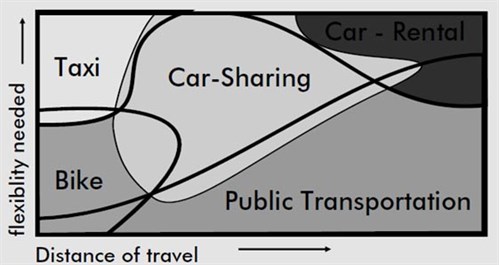 The image shows the relationship between car sharing and other transport modes.
Cost and convenience are big factors for those considering transport alternatives.
For anything other than relatively short journeys taxi costs can become high.
Rental cars only really start to be financially attractive for extended rental periods.
Public transport alone cannot meet all point-to-point needs.
Without car sharing, car ownership is more often seen as essential.
AT research indicates that a car share vehicle supports a decision to walk, bike or use public transport.  
Car sharing also increases awareness of the true costs of driving and parking, as users typically pay by the hour.
Research shows car share members:
Reduce the number of vehicle kilometres they travel.
Increase their use of other modes such as public transport, cycling and walking, and reduce their car ownership.
Parking and charging stations 
International experience shows that car share parking and charging stations are most effective when located in areas where there is:
Parking pressure (parking is scarce, pricey, less convenient).
Ability to live without a car (walkable/bikeable, good public transport, local shopping).
High density (more customers nearby).
A mix of uses (business member use during the work day and individual members during evenings and weekends).
Areas in Auckland which may be suitable include:
Downtown Auckland.
The Civic Centre and Viaduct area.
Parking buildings.
Transit hubs such as bus/rail interchanges, Park and Rides, Ferry Terminals and the airport.
Commercial areas (large supermarkets and malls), venues, and destinations (e.g. Devonport Ferry Terminal).
Community facilities such as libraries and museums.
University Campuses.