New Lynn Transit-Oriented Development
New Lynn transit
New Lynn is being transformed into a vibrant and cosmopolitan metropolitan centre, built around a world-class transit interchange. 

Project overview
---
The development of the new transport interchange was the first step in New Lynn's transformation, and the lynchpin in one of the largest urban regeneration projects to occur in New Zealand.
The transport interchange was also the single largest investment in Auckland rail in the last 60 years and the country's largest ever public transport infrastructure investment.
New Lynn Transit-Oriented Development programme also includes a range of projects and initiatives undertaken by Auckland Transport and Auckland Council to pave the way for the town centre's revitalisation and act as a catalyst for private-sector redevelopment.
The new developments build on a number of projects delivered in central New Lynn since September 2010, including a one kilometre-long underground trench for the railway corridor, double tracking of the Western Line, the award-winning transport interchange, the Clark St extension, Totara Ave's shared space and the redeveloped Todd Triangle and Gardner Reserve.
These developments have established New Lynn as one of the most important town centres in Auckland, built for people who live in apartments, work close to home, or own businesses in the town centre, and who have the option of public transport, walking and cycling to get around.
The New Lynn Urban Plan maps out Auckland Council's vision for the centre and acts as the masterplan, providing clear steps towards achieving that vision. Find out more on the Auckland Council website.
Summary of New Lynn TOD projects
The New Lynn Transit-Oriented Development comprises these new public assets:
A new railway station and double-tracked rail lines.
A new bus interchange.
Five new road-over-rail bridges.
Widening of Clark Street and extension of Clark Street to tie into Great North Road.
New streetscape works in Totara Avenue West to transform it into a shared space.
Extensive landscaping in Gardner Reserve.
Upgrade of the Todd Triangle Reserve.
Additional parking provision alongside the community centre.
New shared-space carriageway in McCrae Way called McCorquindale Lane.
New streetscape and tidal parking adjustments in Great North Road.
New streetscape and parking adjustments in Delta Avenue.
Additional canopies and coverage at the New Lynn Station.
A new parking building at 30 Totara Avenue.
Auckland Council's partnership with developer Infratil Infrastructure Property Ltd has also delivered new retail and medical suites at 32 Totara Avenue.
Shared space and landscaping improvements
October 2014
McCorquindale Lane
McCorquindale Lane was the last step in the New Lynn transit oriented development. This is a new shared space connecting Totara Avenue with McCrae Way.
The 'Riccochet Bar' building was demolished to provide a bright and spacious area with concrete paving, street lighting and street planting.
There's now improved access between McCrae Way, Totara Avenue and the shopping mall. The development is expected to boost commercial activity in the area.
The project was completed on time and below budget.
August 1 2014

The final phase of current works for Auckland Transport at New Lynn Town Centre is currently underway.
A new vehicular and pedestrian link is being constructed to connect Totara Avenue with McCrae Way. It will be a "shared space" area to be known as McCorquindale Lane.
The works included the demolition of the 'Riccochet Bar' building in order to provide a bright and spacious area with concrete paving, street lighting and street planting. Demolition is complete and when completed, McCorquindale Lane will provide a greater level of pedestrian linkage between the main thoroughfares and the shopping mall.
Totara Avenue shared space
Single paving across the full width of the street now allows pedestrians to move more easily in the shared space and expands opportunities for enjoying outdoor dining, street activities and events.Opened in September 2011, a shared space has transformed Totara Avenue West into a slow-speed zone that creates a more pedestrian-friendly retail area and focal point for New Lynn's town centre.
Important! Motorists must give way to pedestrians in the shared zone and drive to the conditions. Pedestrians also need to take care. Pedestrian-only accessibility zones run along both sides of the street.
A number of P30 parking spaces are available within the shared space.
Todd Triangle
The Todd Triangle Reserve was upgraded as part of the Totara Avenue shared space development and features attractive seating, green space and several brick artworks by renowned sculptor Peter Lange – a nod to New Lynn's clay heritage.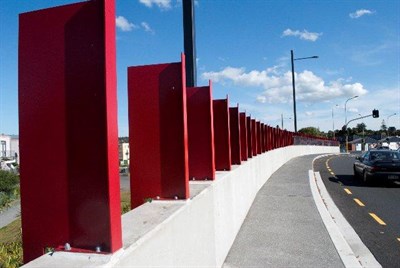 Opened in 2011, the Clark Street extension acts as bypass for heavy vehicles to avoid the New Lynn CBD and allows Totara Avenue West to operate as a less-congested and pedestrian-friendly space for retail and leisure.
The 300m dual carriageway extends Clark Street to the west from the Clark/Rankin intersection and curves to the north via a new bridge over the rail trench to connect with Great North Road (next to Cambridge Clothing).
Gardner Reserve
As the grassed slope which supports the extension partially extends into Gardner Reserve, Auckland Transport upgraded the reserve along with its work on Clark Street. The Gardner Reserve (right), adjoining the new Clark Street extension, was also upgraded by Auckland Transport in 2011 as part of the New Lynn Transit-Oriented Development programme.
A new public toilet block has been installed and a rain garden begun.
A number of other changes such as landscaping, rain gardens, a toilet block, new seating and lighting and realigned and upgraded footpaths, have transformed the reserve into a more attractive and useable public space.
Important heritage features of the reserve, such as the brickworks, remnant garden plantings and significant trees, were retained.
Crown Lynn land development
New Lynn has been identified as a metropolitan centre and priority growth area in the Auckland Plan. Crown Lynn is a brownfields development precinct in New Lynn that will make the single biggest contribution to residential growth within walking distance of the award-winning New Lynn Transport Interchange. 

Crown Lynn has the potential to accommodate up to 1800 new residential units and 40,000m2 of new employment floor area. To support and facilitate development of the brownfields land, and give effect to the Auckland Plan's aspirations, Auckland Council has confirmed funding of $5.7million for a new urban park and Auckland Transport has allocated $16 million for land acquisition and road design and construction. Future road alignments are currently being explored and will be firmed up once certainty in negotiations with land owners is achieved.
The roading and parks investment will create the gateway to the new residential precinct. The new park – on the original site of the famous Crown Lynn pottery works - will comprise an integrated stormwater pond, a contoured landscape for picnicking, art trails and kiosks, and an extraordinary mass of structural planting. The new road network will provide wide footpaths, parking, landscaping and an extension of the Memorial Drive main street into the new park and residential precinct.
For more information on this project