Parking for service and trade vehicles
Parking for service and trade vehicles
Auckland Transport (AT) are investigating ways to reduce the dependence on on-street car parks and loading zones, manage congestion and improve efficiencies in the way service, trade and delivery businesses access their CBD clients.
We are trialing a new program that will enable trade and service businesses improved access to parking in central Auckland. Trade and service vehicles are now able to access reserved spaces in Victoria car park. This will save time trying to find an on-street park and will help reduce congestion.
Cost
$4 per hour.
Location
Trade and service vehicles can now utilise three dedicated parking spaces on the ground floor level in the Victoria car park. This will save time trying to find an on-street park and will help reduce congestion.
The three parking spaces are located on the Kitchener Street level and are positioned near the pedestrian entrance and lift.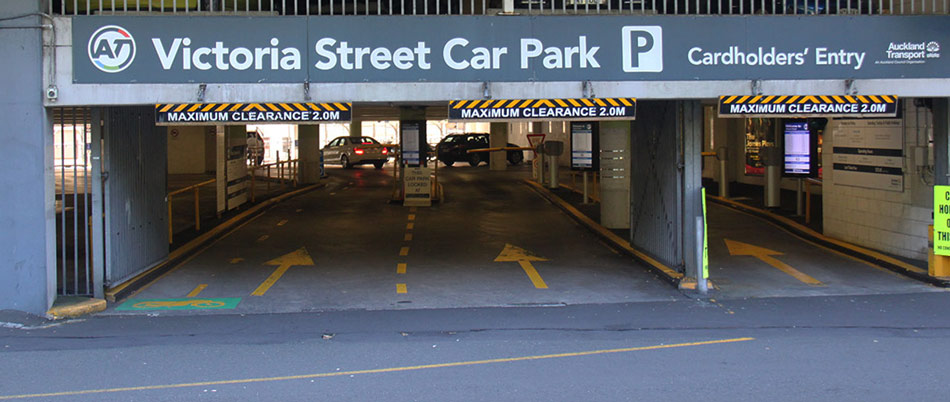 Eligibility
The three reserved parking spaces are for Trade and Service vehicles that actively doing jobs in the Auckland CBD. The vehicle should be clearly identified as a Trade and Service vehicle.
Payment
Payment for parking can be made as usual by using the Payment Machine on the ground floor of the car park. There is no time limit on these spaces.
Consultation
This trial is in response to consultation where service businesses such as plumbers and electricians said they needed better choice for parking along with suggestions for options that avoided having to search for parking spaces.
Timeframe
If successful this will be rolled out more widely across the CBD. We will seek feedback from businesses to find ways to improve the service before adding additional ones.
Other ways to help reduce congestion in the CBD
What we are looking to do:
Improve the availability of on-street parking by adjusting the tariffs.
Increase the number of loading zones in the central CBD
Promote the AT off-street car parks for short-term parking to free up on-street for critical business use
Make improvements to the AT Park parking app such as showing live parking availability
What delivery companies can do:
Work with customers to establish alternative delivery times outside the peak.
Establish central bulk delivery locations from which deliveries can be completed on foot or by bike (a practice already being employed by a number of companies). 
Consult with customers to streamline the need for deliveries to multiple CBD locations.
Review your CBD delivery strategy: consider rezoning delivery routes to avoid key congestion areas.
Include extra travel time in your daily schedule.
What service and trade businesses can so:
Identify parking locations that allow adequate time for you to complete your task.
Organise parking in advance with customers.
Ask that tasks and building access be scheduled away from peak periods when there is less pressure on journey times and parking.
Work with customers to establish secure drop-off points for tools and materials, allowing time to locate off-street parking.
Include extra travel time in your daily schedule