Civic car park
Civic car park
Casual parking $4 per hour*
Fees
Monday - Friday 6am - 6pm
0-1 hours
$4
1-2 hours
$8
2-3 hours
$12
3-4 hours
$16
4-5 hours
$20
5+ maximum fee
$24
* These tariffs are a guideline only and subject to change. Refer to the schedule of fees at the car park entry.
Operating hours
Mon - Thu 6am - 1am.
Fri - Sat 6am - 3am.
Sun & public holidays 6am - 11:30pm.
Closed Christmas Day and Good Friday.
Car park features

Vehicle height clearance: 2.08m.
Green / red way-finding sensors.
Well lit.
Clean and tidy.
Electric vehicles charge points: 6 on level 1. For help and support visit ChargeNet.co.nz.
Lift access from Aotea Square to all floors - located close to the Town Hall (open 10am to 11pm daily).

The Sky Metro glass doors will Operate the same hours of the car park for use of these lifts.
Please note: AT does not allow any advertising without prior authorisation or the sale or distribution of any goods in our car parks, unless it is part of a licensed market activity during the market's operating hours.
AT does not allow the distribution of advertising material or storage of goods in its car parks.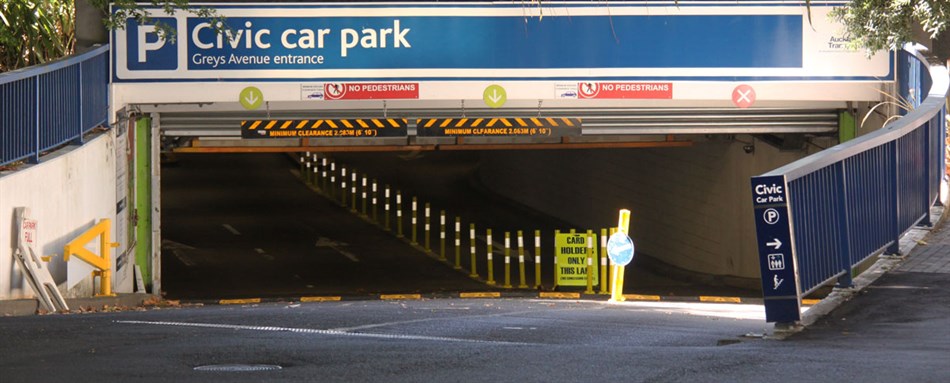 ---
Evening, weekend and public holiday parking
Monday - Friday: 6pm until close. $12 flat fee applies.
Prepay option available.
Weekends and public holidays - $2 per hour to a maximum of $12 until close.
Closed Christmas Day and Good Friday.
---
Mobility parking
The Civic car park has 20 mobility spaces available.
First 2 hours free then usual rates; after 6pm and weekends free. One entry and exit per period.
Take your mobility card and entry ticket to a pay machine and press the help button for instructions.
---
Monthly parking
Reserved allocated - Level 1 and 2: $510
---
Payment options
Automatic payment machines can take Visa, Mastercard, Diners card and EFTPOS payments, as well as cash.
---
Way-finding system
Sensors record, at any point in time, what spaces are available in the car park. The way-finding system then shows a red or green light over each bay to indicate whether it is available or not.
---
Other parking
Auckland Transport offers free designated parking for motorcycles and scooters in all of its car park buildings.
Parking spaces are clearly marked out and only one motorcycle or scooter is allowed per space.
Patrons parking in excess of 12 hours are encouraged to use level 3 leaving the upper floors for daily commuters.
Level
Mixed motorcycle
& scooter
Level 1
28
Level 2
44
Level 3
18
Total
90
---
Parking scenarios to help calculate your parking costs
Scenario 1: Park on Friday after 5pm and leave the car there until Monday, 7am. Total cost: $12 x 3 (Friday, Saturday, Sunday) + $8 = $44.
Scenario 2: Park on Friday at 7am and leave at 10pm. Total cost = $24 - the maximum daily rate during the week.
Scenario 3: Park on Friday at 8pm and return later than you planned. Will you be able to get your car out?
Civic car park is open from 6am Friday until 3am Saturday so you will be able to remove your car at any time before 3am on Saturday. If you want to remove your car when the car park is closed (eg. between 3am - 6am Saturday), you will need to contact Armourguard on 080 0900 015 for assistance and pay a release fee additional to your parking fee.
---
Need more information?