The new Te Horeta Road, the last major milestone of the first stage of AMETI, opened in November 2014. Stage 1 also included building the new Panmure Station, 3 new bridges, new cycle paths and footpaths.
---
Project overview
---
Features
The major upgrade of Panmure Station creates an interchange that allows easy passenger transfer between trains, a new busway and local buses.
The new 1.5km Te Horeta Road linking Morrin Road to Mount Wellington Highway will cut peak journey times between Mount Wellington and Glen Innes.
A 220m tunnel for the new road built has been constructed next to the rail line at the station. The station buildings are built on top.
A new bridge next to Ellerslie Panmure Highway will accommodate a future busway.
The Ellerslie Panmure Highway bridge has been reconstructed higher and longer to allow for rail electrification, the new road and a future third rail line.
A wider, longer footbridge with ramps over the rail line between William Harvey Place and Ireland Road is under construction.
There are new cycle lanes on Ellerslie Panmure Highway (Mt Wellington Highway to Queens Road) and will be included in the new AMETI road.
A new Mountain Road bridge, also higher and longer, and realignment of Mountain Road to meet Jellicoe Road at the intersection with Pleasant View Road is complete.
Benefits
The new Te Horeta Road cuts journey times between Mount Wellington and Glen Innes. The direct link bypasses the Panmure roundabout and Ellerslie-Panmure Highway. easing congestion on this route.
It carries 20,000 vehicles per day, including 2400 trucks as a result of the better connection for business and freight traffic.
Reduced traffic on Mount Wellington Highway (40%), Ellerslie Panmure Highway (33%), Jellicoe Road (40%) and Apirana Avenue (20%), improves local journeys.
The number of trucks using Jellicoe Road is forecast to reduce from 3,200 per day to less than 400, and from 3,600 to less than 700 on the Ellerslie-Panmure Highway past Panmure Station.
Safer walking and cycling routes, with cycle parking at the upgraded Panmure Station.
Easy transfer between buses and trains, with shelter along the majority of Panmure Station platforms.
View photographs of the opening of Te Horeta Road.
Key facts
Up to 300 people were employed on the project.
44,000m3 or 5000 truckloads of hard basalt rock was excavated for the new road tunnel and approaches.
Crushed rock from the tunnel was reused in the new bridges and roads.
Bridge piles were drilled 60m deep to reach solid rock.
57,000 plants including 420 large specimen trees and 7400m2 of grassed areas were planted.
---
Panmure Station upgrade

Panmure Station is complete and caters for growing numbers of commuters. It is expected to become the entry point to the new South Eastern Busway and the main transfer point between buses and trains.
The $17.5-million upgrade included a new station building and shelter along the majority of the platforms. The walking distance between buses and trains is now less than a minute.
Improvements to the station include:
New interchange building for busway, local bus and rail passengers.
New bridge for busway stops, piling 55m deep.
New central pedestrian plaza linking both sides of rail tracks.
Shelter along majority of platforms.
Lifts and escalators.
Ticketing facilities, staff and public amenities.
Cycle parking.
The new busway from Panmure Station to Pakuranga town centre and Botany will cut public transport journeys by up to half and attract an estimated 5.2 million passengers per year. Construction of the first stage of the busway from Panmure to Pakuranga is scheduled to start in 2015/16, subject to funding and consents, as part of AMETI Phase Two.
Te Horeta Road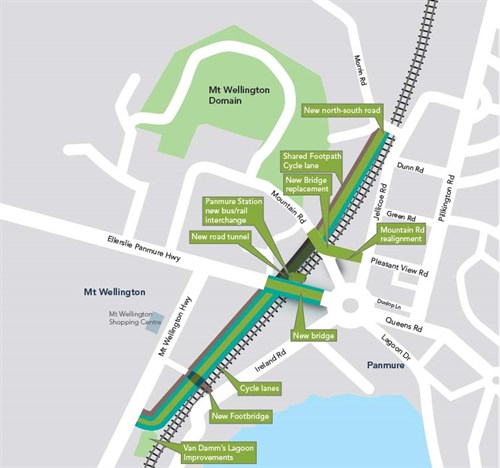 The new Te Horeta Road has been designed to relieve congestion on the existing road network in the area and create a link between Glen Innes and Mt Wellington to serve developments to the north of Panmure.
The 2-lane road provides a less congested north/south link from Morrin Road to Mt Wellington Highway. It will take 20,000 vehicles, including 2400 trucks, off the route through Panmure roundabout and local roads.
This will allow the Panmure roundabout to be upgraded to a signalised intersection in phase two of AMETI.
Te Horeta Road will serve proposed development north of Panmure and be a much better connection for freight and business traffic. There will be cycle lanes in both directions on road and off-road shared path for walking and cycling.
Van Damm's Lagoon, which is next to where the road meets Mt Wellington Highway, is being upgraded and the reserve enhanced.
A new wetland feature will also help improve stormwater management and water quality. In the future the new road will be extended north to meet Merton Road and can be widened to four lanes when necessary.
Two-level road tunnel and bridge

The new road runs through a 220m tunnel alongside the rail line in the station area. The local road for the station has been constructed built on top of the tunnel.
Creating the tunnel:
Excavation and removal of 44,000m3 of old fill layers, topsoil, and basalt rock from the 220m length of tunnel and approaches,  
Ensured any remains of early Maori settlement was carefully documented,
Contaminated material was removed to specialist landfills,
Basalt rock crushed off-site has been re-used in bridge abutments and new road,
Concrete placed to form the footing, west concrete wall was cast 'in-situ' by placing reinforcing steel and then erecting temporary formwork to hold concrete in place while it cured. Formwork on west wall contained a stencil to make a artwork pattern in the finished walls,
Beams were pre-cast offsite and brought in by truck and lifted by crane in place to span between the two walls,
The new road, footpaths and a cycle-lane have been formed,
A top-slab was poured over the beams and for the new local link road network, and the bus interchange, station building and and urban spaces were created over the top,
The tunnel is fitted out with lights, security and traffic warning systems. Mechanical ventilation is not required due to its relatively short length.
Van Damme's Lagoon
Van Damme's Lagoon is an important community feature that sits at the edge of the new AMETI road.
Improvements underway to the lagoon and reserve will improve the stormwater quality and environment while providing an enhanced space for the community to enjoy. A new road and parking bays are being constructed to enable vehicles to access the lagoon. Currently, only pedestrians can access the reserve from Mt Wellington Highway.

Enhancements include:
Weed-removal and wetland planting to enhance water quality,
Upgraded tracks,
Removal of accumulated sediment from the pond,
Improving local ecology,
Additional land purchase,
Construction of a maintenance access track to the northern end of the pond (immediately downstream of the pipe bridge) and along the eastern perimeter of the pond to the outlet,
Creating a sediment forebay at the upstream end of the ponding area (immediately downstream of the pipe bridge),
Re-shaping to create new bunds and wetland planting areas,
Wider footpaths,
New carpark with entrance from AMETI link road.
The reserve is closed to the public while AT, Auckland Council and Watercare work together to restore the natural beauty of the area.
History of Van Damme's Lagoon
Van Damme's Lagoon is a body of flowing water dammed to form a lagoon near Panmure Basin, just off Mt Wellington Highway.
Historically, the lagoon provided water for steam engines and boilers for the Ireland brothers' tannery, established in the mid-1800s between the basin and lagoon.
In the early 1870s, the tannery processed 90% of the Auckland province's leather sold to local and export markets.
The property was brought in 1930s by Mr Van Damme and made into a beauty spot by landscaping and planting the banks. He stocked the ponds with goldfish and carp and it attracted ducks and other waterbirds. Mr Van Damme grew water lillies in the lagoon and harvested them for market.
A large industrial company later brought the property and used it as a rubbish dump.
In 1975, the property was purchased by the local council and restored as a nature reserve.
---
Public engagement
The public was surveyed in February and March 2012 and public notification given in March and April 2012.
Following feedback from the public, we have included an additional car park with access from Mount Wellington Highway.
---
For more information on this project