Walking school buses contribute to reducing the amount of traffic around schools. In Auckland, there are more than 350 active walking school buses, with over 4,000 children walking to school. That's a lot of active feet on the street.
---
How the buses work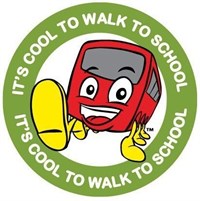 A walking school bus is just like a school bus except children walk to and from primary school under the supervision of adult volunteers (often parents), who act as the walking school bus driver. Children are collected from stops along a planned route and dropped off at the school gate. Along the way they learn how to safely negotiate the road as well as socialise and share stories with friends and neighbours.
Routes vary in length, usually about 1.5 km and/or a 30 minute walk, but they can be longer or shorter. Start times and locations depend on the length of your route and school start and finish times.
A walking school bus can operate all 5 days of the school week or as little as 1 day per week. It can operate in the morning, after school or both. It all depends on the availability of adult volunteers and what works best for your team of bus drivers.
Age and number of children
Walking school buses are for primary school children and are popular with 5-8 year olds, who are still developing road safety skills and are at greater risk of being injured crossing the road alone. Older children may enjoy the bus when given responsibilities, such as looking after younger children or watching for 'sneaky driveways'. Schools can support and encourage older children to do this by rewarding them or starting a student leader programme.
There is no restriction to the number of children and adults that can be on a walking school bus as long as the recommended ratio of 1 adult to 8 children is adhered to. Pre-school children who are walking are included in the ratio; pre-school children in pushchairs are not.
Volunteer information
Sharing responsibilities
When the responsibility of getting children to and from school is shared among a group of parents, it can lead to more free time for everyone. For example, if you are 1 of 5 volunteers for your bus route and you commit to operating the bus 1 morning a week, you're free to get to work without the stress of dropping off your child (or children) the other 4 days. This also gives you 1 stress-free morning to spend with your kid(s) and their friends.
Bikes and scooters
As adult volunteers, it is you who decides whether you can control a group of children walking, riding bikes and riding scooters. If you feel it is too difficult and that safety would be compromised, you can remind children that it is a walking school bus (not a riding one).
Get more information on cycling or riding scooters to school.
Wet weather days
Wet days are when congestion at the school gate is at its worst, so everyone benefits if the walking school bus operates. Get out your wet weather gear and see what different creatures venture out in the rain. Ultimately, it is the volunteer who operates the bus who decides whether or not to operate in wet weather, so discuss this when you start the bus so that everyone knows what to do when it rains.
Keeping safe
All walking school buses are set up with the help of an Auckland Transport (AT) Community Transport Coordinator.
All routes undergo a preliminary walk to identify safe places to cross and to rectify any hazards along the way.
New Zealand Police's School Community Officers are available to walk the route with the bus to answer any enforcement questions.
Each adult volunteer receives road safety guidelines that provide simple tips for walking with a group of children.
Defining walking school bus procedures for your school and putting in place some common-sense road safety practices will help volunteers feel comfortable with their role as supervisors, and ensure children are as safe as possible.
A consent form must be signed before children can join the bus.
---
Starting a walking school bus
Setting up and coordinating a walking school bus route requires enthusiastic parents or adults from your school. If you think you are that person, contact your school principal and the local AT Community Transport Coordinator.
AT can give you all the help you need in getting the walking school bus going, including:
Parent/volunteer training, and ongoing support, and networking and training opportunities, eg workshops on how to recruit and retain volunteers.
Discretionary funding for a route.
Useful resources.
Checking the proposed route for safety.
For more details about setting up or volunteering on a walking school bus, please contact Auckland Transport
---
Walking school bus resources
---